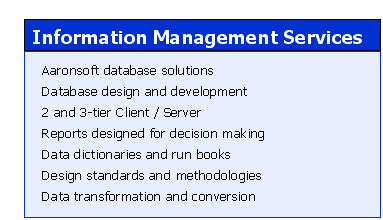 We can help you work with and manage the necessary data your firm needs to conduct business. Our information management consulting has evolved toward creating the kinds of database solutions firms need to handle their data needs. To that end, we recognized the need to deliver our own solutions. Today, we market and sell Aaronsoft database solutions. As the makers of Aaronsoft database solutions, we are in complete control of these database solutions. Visit our Aaronsoft site to learn more about these exciting products.

The primary goal of a database solution is to provide the knowledge that leads to timely and accurate decision making. Many companies are relying on databases that while they provide the "information" based on the uderlying data via reports they don't provide "knowledge".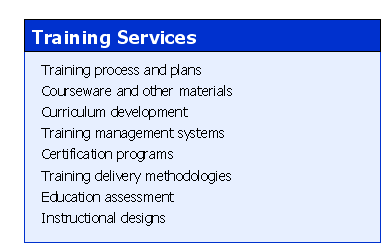 We can help you design, plan, and build training materials that support your products and services with high quality courses and curriculum. As you may already recognize, companies that must train customers, staff, partners, and others on their products and services have taken this task beyond the expense it use to be a delivering high-quality education that can return a significant profit to the company. New technologies available today to support training effort offer a plethora of capabilities and possibilities.
Also, the training experience your customers receive today is made up of 100s of little impressions they get from the time they sign up until they arrive back home after the course. Make a conscious effort to understand and affect the impressions made inside and outside the classroom every day. One idea is to have a note ready for them when they check in at the hotel. People will rest better that night knowing you are expecting them for the course.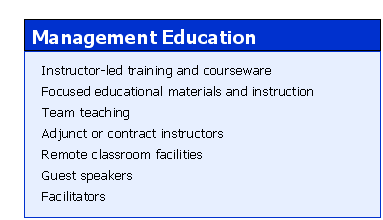 We can help you develop productive, peak-performing employees with custom solutions that support the entire range of training and documentation needs. State-of-the-art training has become an absolute necessity if today's companies are to remain competitive in their chosen markets. Many companies with training organization responsible for educating employees often like to bring in contract instructors to deliver education is areas of expertise not found within the company, or to give people exposure to fresh ideas. Often, this can be a very affordable alternative to hiring someone with the desired background.

Goals of lifelong learning have proven to increase productivity and qualty. We are all in a constant learning mode and want to work for companies that foster education.